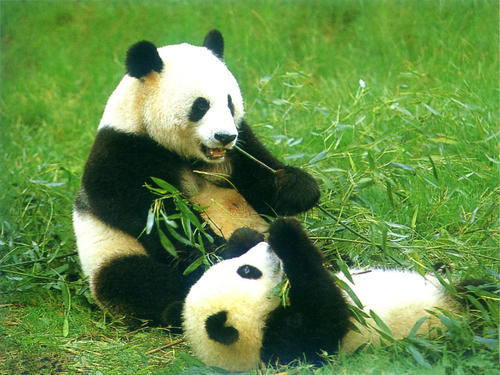 1, Chengdu Research Base of Giant Panda Breeding 成都大熊猫繁育基地

The Chengdu Research Base of Giant Panda Breeding not only offers a chance to see these amazing creatures up close in their natural environment, it also provides an in-depth look at these laid-back animals. Established in 1987, the facility began with just six rescued giant pandas, a number that has since grown to exceed 80 animals and seen well over 120 panda births. Tours also include a chance to visit the on-site museum featuring exhibits dealing with the reproductive problems of these fickle bears. Often found sleeping, pandas are their liveliest during morning feeding times, so plan your trip accordingly.
A great way to get the most out of a visit is to join an organized tour, such as the Half-Day Chengdu Panda Breeding Center Tour (if you can, be sure to select the upgraded baby panda holding option; hotel pickup and transport is included). For an even more unforgettable experience, consider taking the Panda Rescue Center Volunteer for a Day package, which allows you to prepare food for these lovable creatures, as well as receive a private tour of the facility (hotel pickup, transport, and lunch provided).
For a chance to see pandas in the wild, book a trip to the vast Wolong Nature Reserve 130 kilometers west of Chengdu. Covering an area of 2,000 square kilometers, this superb conservation area is surrounded by mountains and is home to 60 different types of mammals, as well as 300 species of birds and 4,000 kinds of plants, including giant redwood trees.
Address: 1375 Panda Road, Northern Suburb, Chengdu, Sichuan
Official site: www.panda.org.cn/english/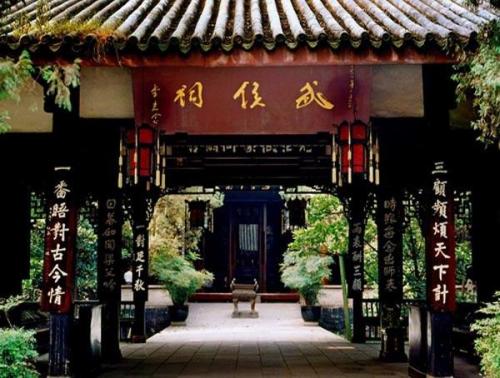 2, The Chengdu Wuhou Shrine 武侯祠

One of Chengdu's oldest temples, the splendid Chengdu Wuhou Shrine dates back to AD 302 when it was built in honor of Zhuge Liang, a famous strategist and statesman who later served as Chancellor of the Shu Han empire from AD 221 to 263 (for his services, Liang was made a prince). Rebuilt in 1672, this vast temple complex boasts many interesting features, including its large central hall with a gilded clay figure of Zhuge Liang (the two small figures on either side of the Prince are his son and grandson).
Also worth seeing is the temple dedicated to Liu Bei, ruler of the Shu Han Empire who's buried in the adjacent 12-meter-tall burial mound. Other notable features are the 28 terra-cotta statues of ministers, generals, and high officials of the state of Shu Han displayed in the east and west covered walks, as well as a number of ancient inscribed stone tablets featuring poems and writings from this important period in China's history.
Address: 231 Wuhouci Dajie, Wuhou District, Chengdu, Sichuan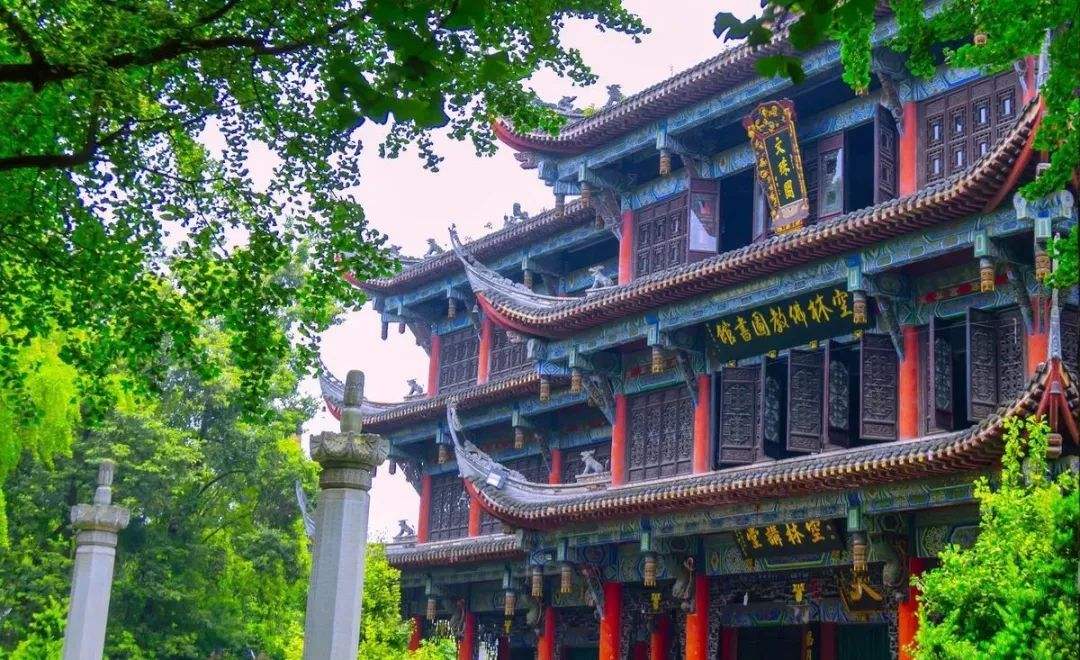 3, The Wenshu Monastery (Manjushri Monastery) 文殊院

Covering an area of more than 12 acres, the Wenshu (Manjushri) Monastery consists of five separate temples built from wood and stone. The complex was constructed in 1691 above the ruins of an earlier monastery dating from the time of the Southern Dynasties between AD 420 and 589. Highlights include the Hall of Shuofa Tang with its 10 iron statues of Buddhist guardian gods from the Song period of AD 960-1279, as well as the more than 100 bronze sculptures of Buddhas and Buddhist saints from the Qing era between 1644 and 1911, and many more made from materials such as jade and wood. The site also contains numerous other important cultural relics, including paintings and calligraphy by leading Chinese artists and writers. (Be sure to spend some time enjoying a traditional beverage at the on-site teahouse.)
Address: 66 Wenshu Yuan Jie, Qingyang District, Chengdu, Sichuan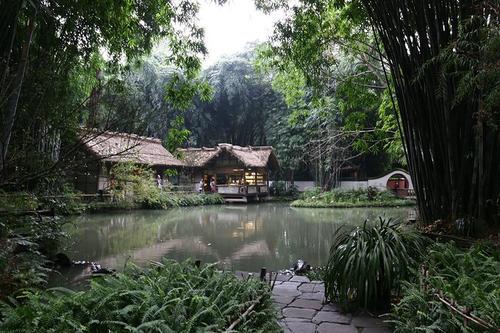 4, Du Fu Thatched Cottage 杜甫草堂

The sprawling Du Fu Thatched Cottage complex (Dù Fu Cao Táng) in Chengdu covers 24 acres and is dedicated to one of China's best-known poets. The site replicates the home in which Du Fu lived between AD 759 and 763 and in which he wrote more than 250 of his best-known poems. Located on a picturesque bend of the Huanhuaxi River, the complex features lush gardens, numerous pavilions, and lovely bridges and pathways. While not original, most of the buildings date from between 1500 and 1800 and were carefully restored in 1949. Other highlights include the Gong Bu Memorial Hall, with its exhibits portraying the life and work of Du Fu, complete with a foreign language section; the reconstructed cottage itself, a simple structure with a study, bedroom, and kitchen; and the Hall of Great Poets showing scenes from his most famous poems, including one dedicated to the destruction of the original cottage by a storm.
Address: 28 Caotang Road, Qingyang, Chengdu, Sichuan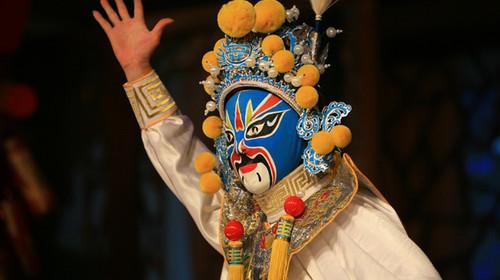 5, Chengdu Culture Park and the Sichuan Opera 文化公园和川剧

In Chengdu's Cultural Park (Wenhua Gongyuan) in the western part of the city stands the old Taoist Qingyang Temple dating from the Tang period of AD 618-907 (the present buildings are from the Qing period between 1644-1911). Particular highlights include the Pavilion of the Eight Trigrams (Bagua Ting), with its eight stone pillars and intricate carvings of dragons and other symbols from Chinese culture.
The park is where you'll find the Shufeng Sichuan Opera House, one of the city's most important cultural destinations and home to numerous regular performances of traditional Chinese music and theater. It's here you'll be able to experience the famous "Bian Lian," where performers in brightly-colored masks seemingly undergo "face-changing" as they seamlessly swap masks with various expressions with a flick of a traditional Chinese fan. Amazing! Also worth a visit, People's Park is the city's oldest public park and is notable for its many important monuments, including the historic Railway Protection Movement Monument.
Address: 23 Qintai Lu, Chengdu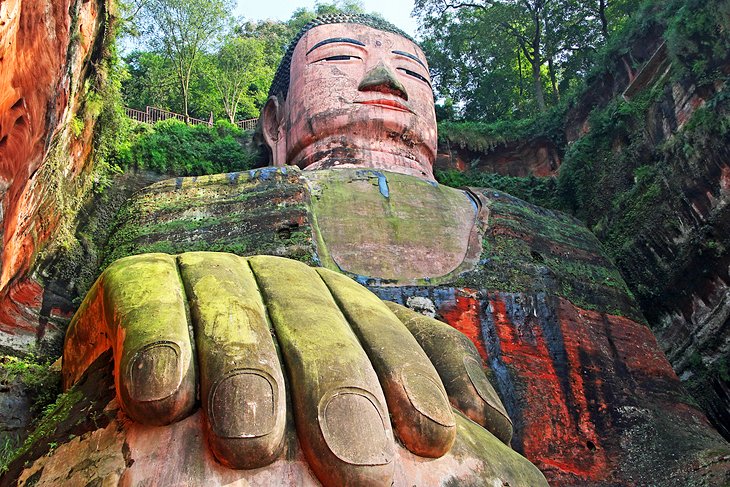 6, Leshan Giant Buddha 乐山大佛

The Leshan Giant Buddha, a colossal stone statue of Maitreya, has been a UNESCO World Heritage Site since 1996. Standing 71 meters high and carved directly from the surrounding rock, this amazing feat was started by a Buddhist monk by the name of Haitong in AD 713. After his death, the work was continued by a number of other monks and artists until it was eventually completed in AD 803. Today, the figure is the largest sculpture of Buddha to be found anywhere in the world and attracts pilgrims and tourists from far and wide (it's also responsible for the saying, "The mountain is a Buddha and the Buddha is a mountain").
One of the best ways to enjoy a hassle-free trip is to book a private tour, such as the first-rate Day Trip to the Leshan Grand Buddha from Chengdu. Highlights of this popular day trip include an English-speaking guide, who will lead you to a few different lookout points from which to view the Buddha (including from an optional river cruise, if you so choose), along with a private tour of Lingyun and Wuyou Temples. Included with your trip are lunch at a traditional Chinese restaurant, as well as pickup and drop-off from your hotel in Chengdu.
Location: Leshan, Sichuan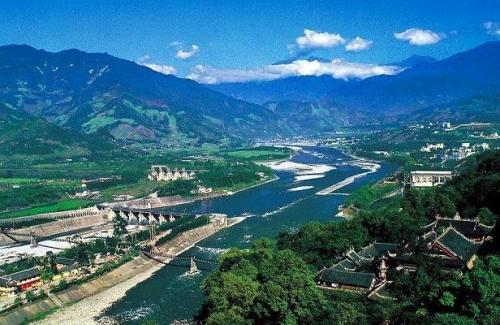 7, Dujiangyan Irrigation System 都江堰

Constructed in 250 BC, the fascinating Dujiangyan Irrigation System, near the town of Guanxian on the upper reaches of the Minjiang River, some 55 kilometers northwest of Chengdu, is well worth a visit. Constructed to prevent catastrophic flooding, this amazing system included a network of earth dams with sections branching out into tributaries and canals to irrigate fields. The system comprises interestingly named components such as the Fish's Jaws, which functions as a watershed and dike; the weir known as Flying Sands (Feisha Yan); and the canal, the Neck of the Precious Bottle (Baoping Kou). As a result of this ingenious system, the Minjiang hasn't flooded for more than 2,200 years, and the Chengdu Plain of central Sichuan has become one of China's most fertile regions.
A nearby attraction that's well worth visiting is the Cave of the Heavenly Master (Tianshi Dong), where Zhang Daoling, the founder of the Taoist religion, taught in a cave in Mount Qingchengsahn. The temple dates from the Sui period of AD 589 to 618 and includes a terra-cotta likeness of Zhang Daoling and three statues dating from AD 723 representing Fuxi, Shengong, and Xianyuan, three rulers said to have lived in China in prehistoric times.
A great way to enjoy the Mount Qingchengsahn area while at the same time taking in the must-see irrigation system, along with a number of other nearby points of interest, is the fun Qingcheng Mountain and Dujiangyan Irrigation System Day Trip from Chengdu. After departing your Chengdu hotel, you'll spend a full day exploring some of the most beautiful scenery in the Sichuan region's Qingcheng Mountains, along with its many well-preserved temples. The undisputed highlight, of course, is Dujiangyan. In addition to explaining the workings and significance of this marvelous feat of engineering, your English-speaking guide will also introduce you to great traditional food over lunch.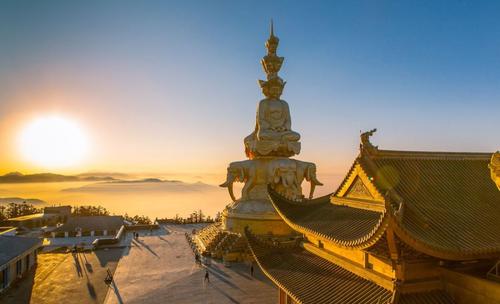 8, Mount Emei 峨眉山

Mount Emei (Emeishan), dedicated to the Bodhisattva Puxian, stands 160 kilometers southwest of Chengdu and is well worth a visit. The mountain's highest peak, the Peak of the Ten Thousand Buddhas (Wanfo Ding), reaches a height of 3,099 meters and is revered by Chinese Buddhists as one of the four Holy Mountains, the others being Mount Wutaishan in Shanxi province, Mount Jiuhuashan in Anhui province, and Mount Putuoshan in Zhejiang province. As shrouded in legends and myths as they are in clouds and mists, the first Taoist temples on Mount Emei were built during the Eastern Han dynasty from 25-220, and from the Tang period of AD 618-907 onwards, it became one of the major destinations of Buddhist pilgrims due to its more than 200 shrines (20 temples and monasteries still survive).

You can find more travel guideline via the link: https://wikitravel.org/en/Chengdu